Meet the most effective program to get your horse on the bit.
Why? Because we actually break things down into steps that you and your horse understand rather than just pulling and kicking!
Get your horse supple, soft, and using their topline in just 30 days. This program will deliver results like never before.
This step-by-step program will teach you the exact system you need to train your horse to correctly accept the contact and engage their top-line.
Plus enter to win $2,150 in CASH Prizes!
Is this you?
You're sick of hearing that your horse needs to get round.
Your horse throws its head in the air and rips the reins out out of your hand.
It won't stop, turn, or go where you want.

Your horse is stiff, sore, and cranky. You spend thousands on a chiropractor and vet.

Your horse is tense and distracted.

You and your horse are really frustrated – you feel like crying.

The kicking and pulling just isn't working.

You're ready to quit!

You're telling yourself, "There has to be a better way!"
Yes, then get ready to transform your ride!
When you know how to break things down and actually teach your horse how to get round, you will be amazed at what you can do!
Fair warning – training horses is not easy. It takes consistency and grit. But I know how determined you are!
And when you enter the challenge you could win cold hard cash! The top 3 transformations will share the $2,150 purse.
Access to our exclusive Facebook group where we will answer your questions and keep you motivated.
You can transform your horse that is inverted, above the bit, hollow, tense and stiff, into one that it supple and soft!
Enroll today and get instant access:
Get your horse on the bit

Work through their topline

Engage the hind end

Have a supple and soft contact with the mouth

And More!
Transform your stiff, strong, and tense horse into a willing, soft, and supple partner!

The challenge is currently closed- put your name down to be notified when we start the challenge again.
This course is closed for enrollment.
Your Instructor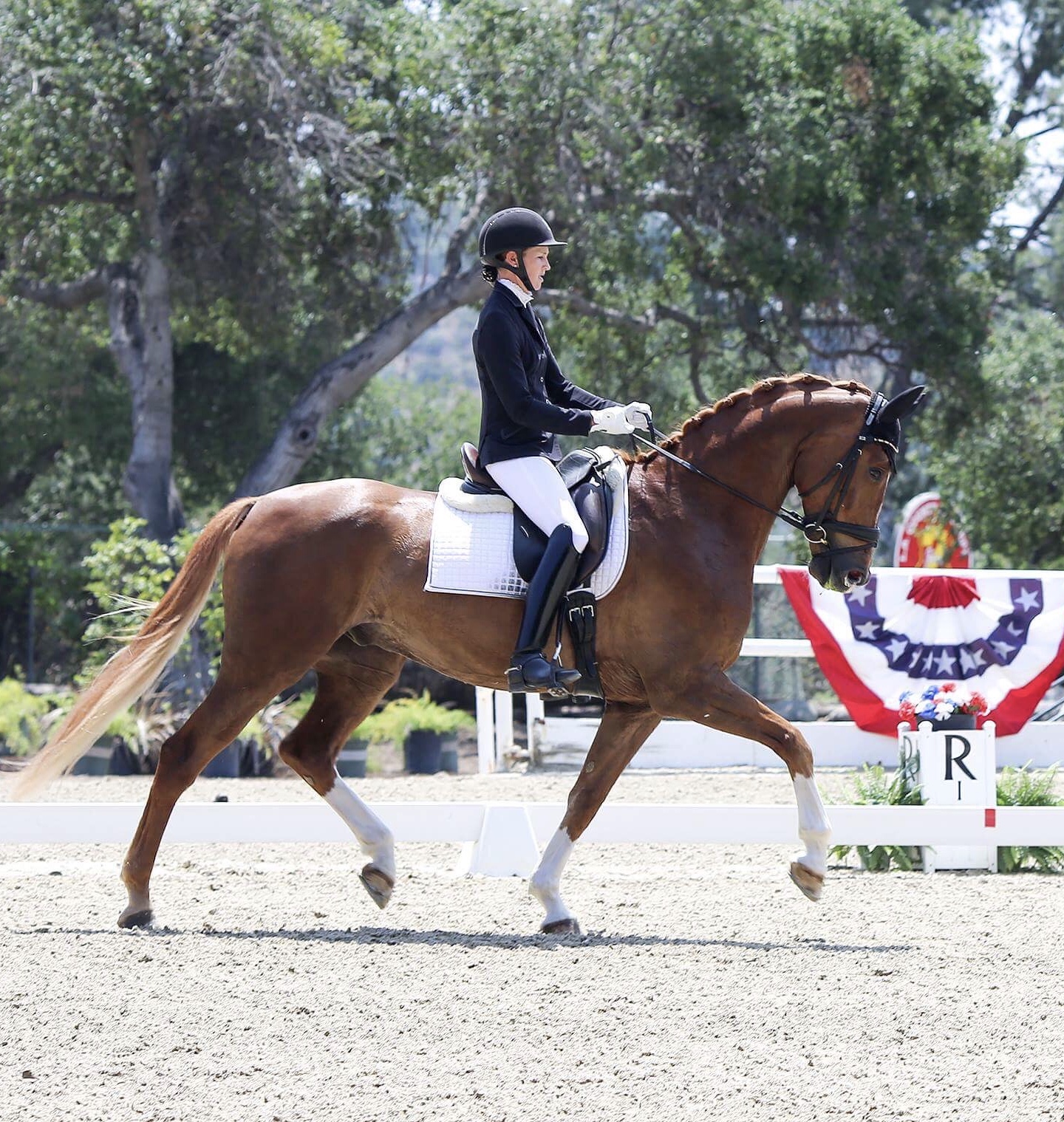 As a dressage trainer, my goal is to make good training accessible to everyone who is interested in learning. I want to help YOU "learn, to love your ride!"
~ Amelia
Amelia is passionate about sharing her knowledge of riding, horses and dressage. She has trained numerous horses and riders from Training Levels to the Grand Prix. Dressage is hard and she loves the challenge of educating riders and horses. Amelia has a clear understanding of rider position, how to ride a horse and train the movements.
Unlike many top riders, Amelia was NOT a natural talent and fell off so many times in her early riding days that her instructor nearly told her parents she should quit riding! Perseverance, love of all horses, and determination, not innate talent, is what made Amelia into the rider and horsewoman that she is today. Amelia is incredibly grateful to all the teachers who have helped her on this journey especially Joh Hinnemann, Christine Traurig, Sue Martin, Larry Fleming and Julie Barringer-Richers and of course the thousands of horses she's ridden including Geronimo, Trump, and Harvey.
Amelia enjoys helping each individual student and horse find harmony, trust, and balance. "Nothing is more rewarding than watching one of my students glide harmoniously around the ring together with their horse! This makes my heart soar!" says Amelia.
Amelia hopes to one day represent the U.S.A. on the international circuit and loves training her three horses, Harvey, Kensington and Luigi in Los Angeles, CA. Amelia has her USDF Gold, Silver and Bronze medals, She is the winner of the prestigious USEF Carol Lavell Advanced Dressage Prize and a member of the USEF Dressage Development Program.
Course Curriculum
30 Days to Round Challenge
Available in days
days after you enroll
Frequently Asked Questions
How long do I have access to the challenge?
You will have lifetime access to the material! While the competition itself and the guided live feedback is only during the competition period (Sept 16th- Oct 16th 2022). You will always have access to the material to keep working away at it!
What if I am a beginner rider just starting out? I won't be competitive.
This challenge is designed for riders and trainers of all levels. Whether you are just starting out or riding FEI, you can still be competitive in this challenge. Winners are selected based on how much they have improved compared to the start of the challenge. Not who is the best overall.
How do you determine who wins?
To put it simply: Who ever improves the most, WINS! Our panel of judges reviews and compares your beginning and end videos and uses the following categories to judge: Groundwork, Gaits, Impulsion, Submission, Rider Position & Seat, and Participation.
Does it come with Support?
Yes! From the time you join the challenge, to the end of the 30 days (October 16th 2022), you get access to myself and my team to ask questions, get advice, additional mini lectures, support sessions, and more!
Do I need to be on Facebook?
We recommend it! Joining the challenge on Facebook allows you to join your fellow participants as they ask questions, share videos, successes, and more! It's also where we'll be posting supporting videos and mini lectures. If you don't have facebook, I would suggest joining just for this challenge.
What if I can't do the challenge right now?
You should still join! While you won't be eligible for prizes, this challenge is chalk full of valuable information that you have LIFETIME access to! So you can go through it whenever you want -and at whatever pace you want.
What kind of equipment do I need?
-A sound and healthy horse -ASTM approved riding helmet -Bridle -Snaffle bit -Reins Optional: Side reins, rope halter, flag
What are the Prizes?
We have cash prizes totaling over $2,150 USD and prizes from: –Kastel Denmark -Solo Bridles -Lumiere Equestrian -Saltaire Equestrian and of course, Amelia Newcomb Dressage Swag
Is my horse too young? Too old?
No. This program is perfect for teaching a young horse to accept the bit and it will also help to get an older horse rounder and softer.
How much will we be working with our horses?
Consistency is key to getting a big transformation. If you only ride a lesson horse 1-2 times a week you will still see results, but the more you work with your horse the better they will be. Remember though, this is quality over quantity. Every session doesn't have to be a long one and it's important to listen to your horse.
What if I'm in Strides with Amelia? Should I still join this Challenge?
It's up to you and what you're looking for! Strides is fantastic and is designed to offer you a wealth of knowledge over multiple topics and provide support over a longer period of time. 30 Days to Round is a Challenge, so if you're competitive (either with yourself or others) and keen on the prizes- this is a great program for you. This Challenge also offers multiple Q&As and LIVE events throughout each week, so you get more time 'with' me and the team for the challenge period.
What if I want to enroll but don't want to participate in the challenge & submit videos?
No problem at all! This can be a challenge with yourself!
How do we go about submitting videos?
We want everything to be fair for everyone. A few days before your 'before' videos are due, you will get a poster that you film to 'date' the start of the video. The 'after' poster will be released near the end of the challenge.
This course is closed for enrollment.